-


[via The Last Minutes]
-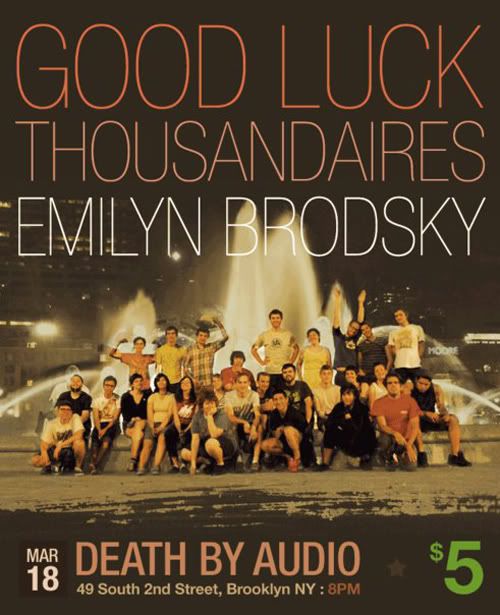 [via Good Luck]
-
:: TUESDAY ::

asa ransom | the last minutes
ishmael | apache kid

march 17 – death by audio – $6
all ages
-
:: WEDNESDAY ::
good luck [bloomington, IN] | thousandaires
emilyn brodsky

march 18 – death by audio – $5
all ages
-
──────────────────────────
DEATH BY AUDIO
49 s 2nd st btw kent & wythe
doors at 8, show at 9
L to Bedford
-or-
JMZ to Marcy
-or-
G to Broadway
[map]
[NOTE~ dba is NOT byob, but there is beer on the cheap for the 21 and overs inside!]
──────────────────────────
-
TUESDAY
:: asa ransom ::


[via myspace / Ashley Haber]
"The sound of Asa Ransom is difficult to pin down. Their dance-inspired, dramatic style of instrumentation is upbeat and delivered with vibrant intensity. Vocals drift through an epic of phantom sounds and sudden garland. Melodic bass and feral drums rumble under chiming guitar and percussive keyboard, conjuring at once memories of the east and textures of the future." -Fearless Music
download The Gold EP for free via their site ►►► here
video for "New Circles"

-
:: the last minutes ::


[via myspace / Andrew Mixter]
download Wash EP for free ►►► here
video for "Go By"

-
:: apache kid ::


[via myspace / Nico Flores]
"Shoegazing G Stars Gil Sunshine and Casey Feldman make dreamy, looping, danceable rhythms that envelop your soul. The lyrics are catchy. The beats are bumping. The guitar riffs are sexy. Music from two students has never looked or felt this good." -Aural Wes
live video

-
WEDNESDAY
:: good luck ::


[via their myspace]
newest project from Matt Tobey of Matty Pop Chart / Abe Froman
"The album is bursting at the seams with brilliant songwriting, lyrics, and incredibly creative musicianship from all three members. It is obvious that Matt Tobey (guitar, vocals), Ginger Alford (bass, vocals), and Mike Harpring, Jr. (drums) have something going on that is not often heard. Maybe that's because Matt is used to banging the skins, Ginger is used to ripping through folk-punk songs on the guitar, and Mike is used to keeping time with complex metal bands … Whatever it is, this is one of my favorite records I own. Period." -thedeuceandbeyond
purchase Into Lake Griffy LP on the cheap ►►► here
download mp3s ►►► here here & here
-
:: thousandaires ::


[via Last.fm]
side project from Jeff of Bridge and Tunnel, Jared of Get Bent, and Dave/Dom of Halo Fauna.
purchase Land Seal CD via Mandible Records ►►► here
-
:: emilyn brodsky ::


[via myspace / Village Voice]
"Greatest Tits makes me laugh out loud, get depressed, and then sing along, sometimes all in the same song.  Mostly because it always tells the truth." -Craig Finn
purchase new record Greatest Tits [feat. mems of Dresden Dolls, WIFS & The Hold Steady] via her site ►►► here
-

Browse Timeline